Description
CPR BasicBilly Basic life support simulator without feedback device
The CPR simulator BasicBilly relies on a proven mechanical-only design and an audible feedback is given when the correct compression depth is reached. Two springs are included to train the compression force required for realistic cardiac massage in both adult and pediatric Basic Life Support courses.
The CPR Training Manikin Basic Billy is your reliable and economic choice for basic CPR training.
Basic Billy was developed utilizing the results of extensive studies focusing on the depth and force of compression during cardiopulmonary resuscitation (CPR). The Basic Billy CPR Manikin fulfills the latest guidelines from the AHA (American Heart Association) and ERC (European Resuscitation Council) on CPR and was designed with optimal force and compression values in mind.

With cardiac failure as one of the leading causes of death, let Basic Billy show that it is not difficult to provide help and save lives through correct cardiac massage and ventilation technique. Basic Billy is both anatomically correct and hygienic to use. The head is easy to tilt in order to open the airways for mouth-to-mouth and mouth-to-nose resuscitation. Additionally, the thorax raises as the lungs are ventilated. Mask ventilation is also possible and Basic Billy comes with lung bags and 1 additional face mask for hygienic reasons. Low priced disposable airways and a carrying bag ensure hygienic and easy care of the manikin.
Even better, Basic Billy is actually two manikins in one as it can be used as either an adult or a child (of approximate age 12) CPR trainer. Just use the easy and interchangeable springs located in the back of the trainer to give the realistic depth feedback of either the adult (5cm) or child (4.5cm).
Developed and manufactured in Germany.
1 BLS simulator (torso) with spring for cardiac massage of adults
1 additional spring for cardiac massage of children (approximate age of 12)
5 lung bags,adult
5 lung bags, child
2 telescopic guides
1 additional face mask and inner head for hygienic artificial respiration
1 disinfectant solution
1 carrying bag
This version of the BASICBilly does not include any direct feedback device.
If you are looking for a CPR simulator providing real-time feedback and evaluation, as recommended in the latest guidelines of the American Heart Association (AHA) and the European Resuscitation Council (ERC), please check out our award-winning product BASICBilly+ or the enhanced version CPRLilly PRO+ (GM12056)​.
Dimensions 60.5 x 35.5 x 19 cm
Weight: 3,8kg
Spare parts
BasicBilly Face Masks, 5 pcs
Consumables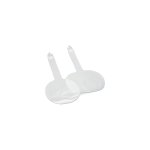 Basicbilly PE Lung-bag, 25 pcs
Basic Billy Lung Bags, 75 pcs
Basic Billy Lung Bags Child
Accessories
Transport Bag with mat for BasicBilly